I was thinking that I really liked this image I made of a sunset from last January...
I wondered what it might look like if I flipped it horizontally...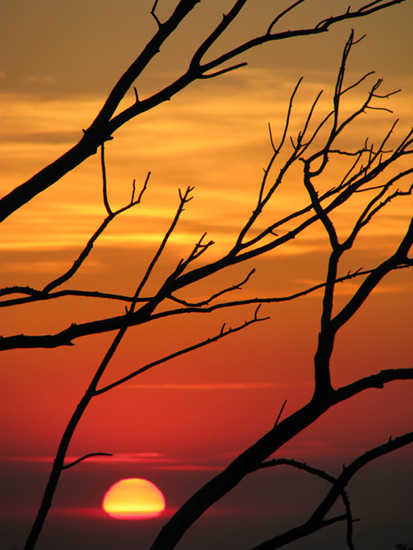 I decided I didn't like that as much. But, then I thought... Maybe you need both! So, I decided to see what they would look like side-by-side...
Actually, what resulted was sort of a happy accident. I had intended on putting the two images together in a manner similar to the image I shared here with a thin black border between. I happened to place them too close together and (fortunately!) I saw this marvelous pattern and shape appear. I love when you can do something in a graphics program with your photo that manages to retain its essential nature but also adds a new dimension or element. In this case, it was already so fantastical and surreal that I thought I would go just one step further and turn the image upside down...
Now, I had originally planned at this point to tell you how excited and impressed I was by the figure that appeared to me when I stared at this last image... But then I thought it might be more fun (à la the interactive-cloud-gazing post) if I asked y'all:  What do you see?
*grin*


[P.S. When I was trying to come up with an interesting name for this approach (technique?) (style?), a few of the words that I was playing around with were "mirage" and "mirror image" as both terms seemed apropos. It dawned on me that the first word was contained within the letters of the second. I thought that was nifty! Though, perhaps there's no great surprise in this as apparently the words "mirror" and "mirage" share the same Latin root — mirare, meaning "to look at, to wonder at".]